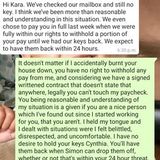 Kara J
Warning: Cynthia Chan
Calgary, Alberta
Last seen over a week ago
Pay negotiable
Nanny Job in Calgary, Alberta
I thought that this was quite important, and should be shared with all of you who are seeking employment as a nanny.

I was a nanny for Cynthia Chan and her family for about 2 months. Although her husband was incredibly nice and respectful, she was not. There were instances where she would speak to me in a condescending tone, as if I were an unintelligent 23 year old who could only function as a 5 year old. She was quite belittling, and sometimes, fairly disrespectful in a sense that she would not treat me as an equal human being, as if being a nanny to her cildren made you any less of a deserving person. She has a self righteous attitude, and it was uncomfortable working for her.

However, I am not that kind of person, and can handle someone thinking they are better than me, or more capable. I set these feelings aside, because I was treated fairly by her husband, and I grew quite attached to her little girls. I did not want to cause stress for them, to have them transition to someone new so soon, and disrupt a routine they were finally getting use to. Anyone who works with children, will understand my exact intentions.

Everyday, I would do what was expected of me, and then some. There were extra things I'd do each day that I felt would be very nice to come home to such as a made bed, a tidied bedroom, clothes put away, bathrooms wiped down and tidied up, etc. These extra things that I did to try and make the day easier for them when they got home, were never acknowledge. There was a simple "Thank you" each day, but that was it. My hard efforts may as well have not been applied.

Unfortunately, I had a death in immediate family and I had to travel back to the north on the next available flight without any sort of notice. I spoke to them so that they were aware of my situation. Her husband, Chris, was very kind and understanding, and even offered to wait a week to hear any updates before seeking a replacement to fill my position within their family. A week went by, I was still in the north figuring out final details and spending quality time with my family, I decided it was best to stay a little longer, so Chris and I agreed that they would now search for a replacement, which is more than understandable. The issue with this however, is that I still held a set of their house keys, which obviously they wanted back. Cynthia was very pushy on this, and insisted on getting them back right away as if I had forgotten, or had intensions of hanging onto them.

In my current situation, the house keys along with them as a family, were the very, very, very, last thing on my mind and with being out of town, even moreso. We arranged for my finance to drop them off to their mailbox within the week. He works a very demanding job, and 14 hour days, we also have two dogs so it was difficult for him to remember the task of returning them for me, and I did not remind him as I wasn't thinking about that or caring about it all that much.

She wrote yesterday, what you see in the screenshot I have provided. What I said, is the last thing I said to her, before I blocked her and removed myself from the group. The audacity of her to even speak to me in that tone about house keys, and demanding them back within 24 hours, was just too much for me, and I felt incredibly attacked. I was not in the mood for this at all, as I had been on a current lay-over for hours, travelling back to Calgary. I got back in the city last night (December 5th, 2019) just after 10pm. By the time we got home, it was close to 11pm, my fiance had a very log day at work and we headed to bed right says as he had to be up at 430am for work.

Midnight last night, an hour after we had gotten to sleep, there is pounding and incesient ringing of our doorbbell at our private residence where we live. It was Cynthia. I opened the door and asked her what the she was doing. She came for her keys, at midnight, waking my entire household up from our sleep, with no regard for our morning, or what I had just been through. We woke up very frantic from our sleep, our dogs were freaking out and very stressed, our rescue pop actually soiled the house because he was so afraid, and our other doggie kept us up the entire night as she was stressed out from the noise and the events of what happened, she was very needy and did not sleep. I did not give her consent to show up at my home, however, she did and she caused a scene as well as waking my neighbours from their sleep, they had come down to ask if of everything was okay.

This goes without saying, but she is not a person you want to associate yourself with. This type of behaviour is child like, and abnormal. She is clearly tempered, immature, and quite frankly, kind of insane.
---
Services Needed
Your responsibilities will include:
Pet care
---
Similar Profiles Nearby
Near Calgary, Alberta

Shannon A
Nanny in Calgary Alberta-Auburn Bay

Noren H
Capable and loving Nanny sought for our amazing 2 year old!

Sami M
Calgary, Alberta Babysitter Opportunity

wenshuang y
Qualified Nanny Wanted Immediately
Find Nannies Jobs in Calgary, Alberta
Similar Profiles Nearby
Near Calgary, Alberta

Shannon A
Nanny in Calgary Alberta-Auburn Bay

Noren H
Capable and loving Nanny sought for our amazing 2 year old!

Sami M
Calgary, Alberta Babysitter Opportunity

wenshuang y
Qualified Nanny Wanted Immediately