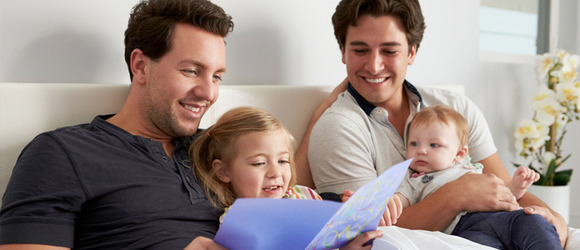 Parenting
What are the Challenges and Advantages of Gay Parenting?
by Craig Sutton

• August 30, 2016
Gay couples have the same questions and concerns of all would be parents — "I wonder if I will be a good parent?"
Although society has become more accepting of gay and lesbian relationships, same-sex parents still encounter challenges. Will having a child make the situation more difficult? What challenges will a child face?
In this article, we'll consider some of the obstacles that gay parents face, and hear from gay parents who've succeeded in not having children but have successfully created great families.
Difficulties of Gay Parenting
Here are a few of the possible hurdles of gay parenting:
Prejudice and Discrimination
Although many people have matured and they appreciate gay couples, there are still many people who don't. A Mamiverse article cited the story of a Hispanic woman whose mother not only disapproved of her lesbian marriage, but she also refused to talk to her when she learned that her daughter was having a child.
Another couple mentioned the discrimination they received in the schools, receiving insensitive treatment from parents and other children.
Misconceptions
Many people in society still believe that gay parents lack the capability to nurture a child properly.
Let's Talk About Sex
Many heterosexual parents have expressed difficulty talking to their children about sex. This subject can be very sensitive for some gay parents.
In a video interview above, an American father shared some of the issues he faced and how he successfully dealt with it, saying "There's a lot of resistance still, where you live can sometimes be a big challenge. We live in Tennessee and there are a lot of people that, perhaps would have never socialized with us, but when we joined the soccer team, the Republicans that most of them are, have embraced us, and I think we've changed their hearts and minds."
Later in the interview, the father added an additional point about society's misconception about gay parent's inability to create their own children, he clarified this point, explaining
"Because of advances in medicine, we're able to have families, that are biologically ours, and many people think that because we're gay, we're infertile. We're actually not infertile… Our process of having children is a little bit different than others, but our children are real human beings, they are sacred and they should not be marginalized."
Advice, Planning, and Solutions
A lesbian couple in Australia effectively and maturely took a stance against homophobia. Initially rejected by the church and people in the neighborhood, the couple got involved in the community, their help was appreciated and people soon realized they we're a pretty average family.
Tips for Gay Parents
Communicate
Talk to your child openly about the positive things in your family arrangement as well as explaining discrimination and why people bully.
Books
Find children's books that will help your children deal with the issues.
Teachers
Seek to develop a relationship with your child's teacher and ask about educating the other children about your family structure
Support Groups
Join a community or have a social network, so children can develop bonds with other children of same-sex relationships which will prevent them from feeling alone.
Consider Your Child's Comfort Level
"Coming out of the closet was a difficult process for most of us, and we have no desire to run back into hiding, where many of the conservative politicians hang out these days. However, our children are a different story. They are faced with their own set of problems and social structures at school, and being different in school can be cause for ridicule. While I'm not advocating parents rushing back into the closet, I am suggesting we don't force our kids to be as open about their parents' sexuality as we are. Did you want to talk about your parents' sex lives when you were growing up? Gross!
If your child is not comfortable with telling the world that they have two mommies or daddies, don't take it personally. Your child has to adjust to life and figure out for his/herself how to incorporate the differences of their home life with their classmates. They will figure it out, and they will be fine with it. Just let them do it at a pace that is comfortable for them. Straight Friends - Having straight friends will help your child understand that you have an appreciation for heterosexual relationships and that your straight friends love you as well."
Embraces Other Cultures
If your child sees you accept other cultures and love other races, it will help them become more open-minded.
Let Children Fight Their Own Battles
You definitely want to step in when your child is in danger of serious harm but not every issue requires your intervention. If you continuously help too quickly your child won't learn how to resolve conflicts themselves or have the courage to stand tall in difficult situations.
The Good Stuff
While society still struggles to accept gay parenting, this hasn't stopped same-sex parents from moving forward and starting successful families. In fact, research shows that gay parents may in some ways be more successful than straight parents. Abbie Goldberg, a psychologist at Clark University in Massachusetts spoke about the benefits of gay parenting mentioning
"Gay parents tend to be more motivated, more committed than heterosexual parents on average because they chose to be parents" Gays and lesbians rarely become parents by accident, compared with an almost 50 percent accidental pregnancy rate among heterosexuals. That translates to greater commitment on average and more involvement."
According to research children of gay parents tend to be more open-minded, tolerant and have a better understanding of equitable relationships while showing no significant differences in achievement, social functioning or mental health.
In Loves Comes First's video above, on top of discussion many of the issues highlighted in the article, one father speaks on how important gay parents are "The LGBT movement has almost inexplicably been the driver in rethinking family in this country, not breaking it down… and the irony is that not only are we attacked as people who are trying to eliminate families… we're fighting for it, and we're saying to the country that family is something you fight for!"
Conclusion
Family is something worth fighting for. Being a gay parent will have a share of difficulties, but by following the advice of other parents, it's more than possible to endure and have a successful family.
---
Related Articles
---
Let Us Guide You Through The Process of Finding and Hiring a Nanny
CanadianNanny.ca is Canada's largest and most trusted online service for finding nannies and babysitters. We have been recognized by Today's Parent, CanadaAM, the Globe & Mail, Reader's Digest, Canadian Living Magazine, and many reputable parenting websites and publications across Canada.
Contact Us
Although we may be a self-serve nanny service, we are still very much devoted to helping families and caregivers succeed in their search for a match through our site. Our customer support team is always here and happy to offer any advice to our potential and existing customers.
Need a Nanny?
Need a Nanny Job?
---