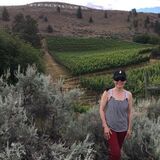 N M
Experienced nanny providing safe and loving care
Nanny in Ocean Park, British Columbia
I am a mature, responsible, reliable and cheerful person with excellent childcare and interpersonal skills. I simply love children, love caring for them and find them fascinating. I am seeking further nanny work to continue doing what I love and broadening my experience. I am very comfortable and natural when caring for children. I have been caring for children my entire life and find it to be very easy and natural for me. I do not consider it to be just a job. I enjoy caring for children, making them laugh and putting them in a comfortable and safe environment during the time I spend with them. Thank you for your time and I look forward to hearing from you.
Experience
Ages include:
Primary School 7-11 years
I have advanced experience with:
Services
Responsibilities include:
Job Details
Transportation on the job:
Recommendations
Jessica Mauro
I recommend N M as a nanny
Rich Morgan
It gives me great pleasure to recommend Noor. Noor started to work for our family in April 2015 as a childcare nanny for our young son. Over the course of the last 2 years, Noor has been exceptional in her role, forming a very quick and loving bond with our son as well as myself and my wife. Noor is extremely responsible, often going above and beyond the expected duties of the position. Her time management skills are very strong, always arriving early and very flexible to work later, when required. More than anything, within the realm of childcare, the priority for parents is to feel both confidence and trust in the caregiver. Noor instilled this in us very early on and we are delighted to have her looking after the well-being of our son. Ultimately, Noor is a hard-working individual, diligent and loving. Both myself and my wife would most certainly recommend Noor and would be happy to speak further at any point.
Yvette Brend
I recommend N M as a nanny
Scott Shantz
Noor Moghaddam provided Nanny services for my family, specifically my 1 year old daughter, from September of 2017 to September of 2018 (1 year). To say that I would recommend her services would be a serious understatement. From the moment that we met Noor we could tell that she would be a caring, confident, and capable Nanny, and she went far beyond our expectations in every way. She was prompt and professional in all circumstances, while maintaining an easy going and gracious manor with both my wife and I, as well as our daughter. This was our first time using a Nanny, and we had our concerns about the entire process. Putting one's child in the trust of another is no easy thing, but Noor made us instantly comfortable. She listened and understood our concerns and related very well to our daughter. She came with a wealth of experience that proved more than helpful for two new parents who were (and still are) learning their way. We found ourselves loving and trusting Noor completely in very short time. We will miss her dearly and would have loved to retain her services full time, but also understand that life takes each of us to different places at different times. We will however certainly be hoping to use Noor's services on a part time, occasional basis when and where we are able, as her schedule permits. All of this to say, that I would happily recommend Noor for any position in child care. We miss her dearly and envy anyone who gets the privilege of working with her. I would be happy to discuss any questions you might have regarding Noor. Sincerely, Scott Shantz
Elizabeth Allegretto
To Whom It May Concern, It gives me great pleasure to recommend Noor Moghaddam. Noor began working for our family in 2017 when our daughter was only 5 weeks old. As new parents, finding a caregiver we trusted was critical and Noor was that person. The bond that she developed with our daughter (and family) was immediate. Noor is loving, caring and the ultimate professional. From day one, Noor has always given my husband and I the confidence and reassurance needed to leave home without a single worry. Noor has now been a part of our family for over 1.5 years and we are extremely grateful for her. Not only is she loving and caring towards our daughter, but her experience and natural ability with children is constantly on display. Whether she is engaging with children through laughter and play, helping them communicate, teaching them how to problem solve through practice and encouragement, or making them feel safe through love and affection. Noor always goes above and beyond the criteria of any job description and utilizes her time with children in a positive and meaningful manner. I am delighted to provide this letter of recommendation for Noor. She is gentle, honest and passionate about her job. Above all, Noor has the best heart. I have seen first-hand how incredible she is with children and how much she has to share with them. Her positivity and loving nature are reflected in the way that our daughter lights up the moment Noor walks through the door. Both my husband and I would be happy to speak further, should anyone have any questions. Sincerely, Elizabeth Allegretto – 778-788-4266 Evan Allegretto – 604-999-9553
Share This Profile
Find Nannies in Ocean Park, British Columbia
More in Ocean Park, British Columbia