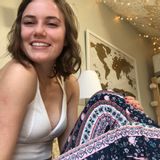 Hanna I
Flexible and Trustworthy Nanny/Babysitter
Nanny in Kingston, Ontario
I'm Hanna, 19 years old and a trustworthy and caring nanny/babysitter. I think it's very important to get children active outside. I make healthy snacks and plan engaging creative projects! I've been babysitting for 6 years with 0 to 13-year-olds. For watching infants, I have experience down to 4 months, feeding, burping, changing diapers, putting to sleep, and giving them lots and lots of attention. In September, I'm starting my second year in the Concurrent Education program at Queen's University with teachables in Fine Art and Math. I'm hoping to get some part-time babysitting jobs starting in September for throughout the year. I'm open to a schedule or random babysitting too! I live in downtown Kingston, so I'm looking for a job close to downtown :) I would love to get you in touch with my references. I also have my First Aid/CPR C training certificate and have a clean vulnerable sector police check. I'm a non-smoker and I'm double vaccinated. I'm also comfortable with pets around. I'm flexible for hours you may need me. Please message me if you would like to know more!
Experience
Ages include:
Primary School 7-11 years
Services
Responsibilities include:
Job Details
Transportation on the job:
Recommendations
Ruth Jones
I have known Hanna for five years. I am a teacher at the International School of Kenya and Hanna lived in the same housing compound as me. Hanna helped to look after my daughter Isla during an 18 month period between the age of 6 months to 2 years. She was wonderful with her and quickly developed a strong bond. She is extremely responsible and reliable and she was always punctual and communicated well. She played with and entertained Isla regularly and always found ways to keep her engaged and busy. She read stories, took her on nature walks and trampolining, and she knew how to respond to Isla's needs, even if she couldn't always verbalize them. She also fed, changed and bathed her. Hanna is extremely caring and compassionate and I always knew that Isla was well looked after and loved. Isla was always happy and excited to see Hanna. I would highly recommend her for babysitting/nanny services.
Laois Rogers
My husband and I, together with our new baby arrived in Kenya for our new positions and had to dive straight into work without having a nanny or anyone to care for our 6 month old. Hanna, a junior in the High School where we were working stepped up to look after our son Otis and from that moment on she became our number 1 to look after our boys when we needed someone. She treated both of our boys with such love that they got so excited when they saw Hanna coming to our home. Hanna would come to our house and immediately spring into action, getting out paints to do some art activities or getting some oats and peanut butter out of our pantry to make peanut butter energy balls with our oldest boy. She would make obstacle courses in our garden and be right there involved with our son getting soaked doing water play. Hanna was also brilliant at the bedtime routine. Bathing both a busy toddler AND baby, reading stories and putting them both to bed. My boys loved story time with Hanna and she never tired of reading the same book over and over. Hanna also helped me with some of the more mundane stuff like making pureed baby food and feeding our then 7 month old. She was a Mary Poppins to not only my children but also to me! After the birth of our second baby, Hanna was a senior and while on maternity leave, I witnessed her stopping by our home every day to play with our older boy and make him feel special. Otis so looked forward to seeing his friend Hanna and sharing what he had done that day with her before she headed home to study. If Hanna was not at university pursuing her dream, we would love for her to come back and be with our boys. I whole heartedly recommend Hanna for any position where she is working with children and would be more than happy to answer any further questions. My mobile number is +254 714 886 421.
Mariana Garza
Hanna is fantastic! She is kind, very well organised, creative, empathetic and extremely caring. When my kids were under her care, they were happy, engaged in the activities she planned, and also held accountable. Hanna is a fantastic role model. My children loved spending time with her. She is quick to respond to emergency situations and went beyond expectations every time I trusted her with my children. I will strongly recommend her!
Jamie Howchin
I recommend Hanna I as a nanny
Share This Profile
Find Nannies in Kingston, Ontario
More in Kingston, Ontario