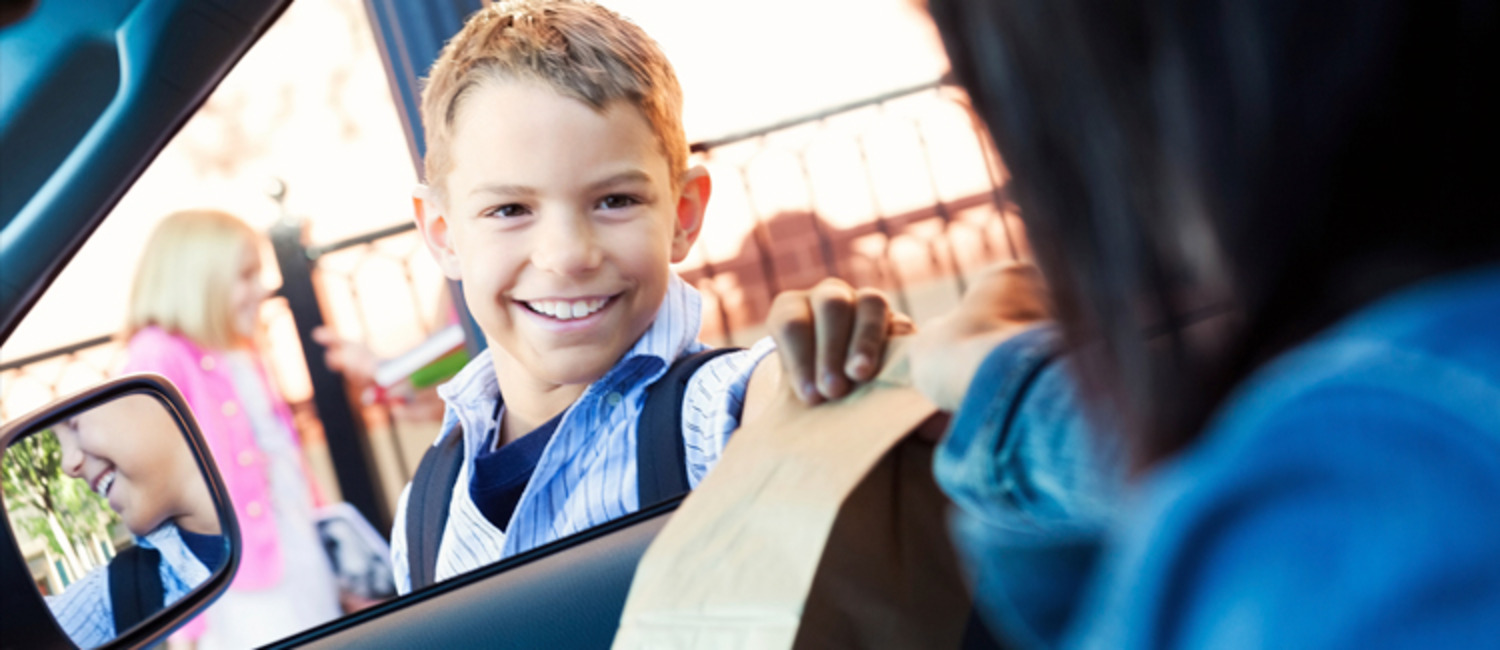 8 Tips for Better School Pick Up and Drop Offs
September 20, 2016
The school pick-up or drop-off is a carefully orchestrated endeavour. It is important to be on time, prepared, and above all else, safe. You need to be aware of your kids, other kids, other parents, and oh, yes, your vehicle. It can feel like a minefield!
Here are some tips to make your school pick-up or drop-off as smooth as possible.
1. Leave Lots of Time
There is nothing worse than being in a rush. Especially when you're driving. You can become careless, not pay as much attention to your surroundings, or just be unnecessarily stressed. When it comes to getting your kids to school, better to be too early than late. Take the time to plan out your route, and check online, or with your local radio or TV stations, to see if there are any road closures or unusual driving conditions that you should be aware of that may affect the timing of your route. Leave lots of time to get everyone to where they need to be safely and on time.
2. Be Aware!
The drop-off zone at school can be a very dangerous place. Kids are excited to see their friends or their parents and aren't always paying as much attention as they should. Because of that, it is more important than ever that you are paying complete attention to what is going around you. Look twice, or even three times, and make sure that you are driving slowly and aren't distracted yourself.
3. Put Down Your Phone
Not only is it dangerous and illegal, but it sets a bad example for the little ones. When you are behind the wheel, there is no need to check your phone. Set up the Bluetooth in your car in case you need to make emergency calls, and put your phone in the backseat or a closed bag so that you can't reach it.
4. Know the Rules
Every school drop-off zone has their own rules and regulations. Make sure that you know them, and more importantly, that you are following them! No need to draw the ire of your fellow parents unnecessarily by cutting in line or idling for longer than is allowed.
5. Respect the Crossing Guard
When you get close to the school, you enter the world of the crossing guard. Whether you are walking with your kids or driving them, it is important to respect the crossing guard not only for the safety of your children but also to teach them the importance of respecting the crossing guard, even when you are not there with them.
6. Walkers have Rules Too
Not everyone who picks up or drops off their kids for school is driving them. In fact, many parents or caregivers walk with their kids to school. If you fall into this category, use this opportunity to teach or refresh your kids on the rules of the road to ensure that they will be safe even when you are not there. Always stick to the sidewalks, and follow all traffic signals and laws. Keep your eyes open for cars, as well as cyclists and other children.
7. Pack Smart
Many drop-off zones don't allow you the opportunity to park and get out of your car in order to help your kids or to unload things from the car. Therefore, it is important that you make sure that everything your kids will need for their day is with them in the backseat and easily accessible so that it can be grabbed quickly as they are exiting the vehicle. If the kids have a big project, or something heavy that they need your help with, then park in the lot and help them with it as necessary.
8. Have a System
If you are picking up and dropping off your kids at school every day, inevitably the day will come when you will not be able to make it, for whatever reason. In anticipation of that day, it is important that you set up a system with your child so that they know when it is safe for them to leave school with someone other than you. Ideally, you will tell your child ahead of time, but if it is an emergency situation, some things that you could do include having a code word or phrase that your child knows that someone other than you picking them up will use so they know it is safe to go with them. It is also a good idea to call the school and inform them, so that your child's teacher can pass the message along to them.
Conclusion
If you pick up or drop off your kids at school every day, it can be easy to go into autopilot mode and not think too much about what you are doing, Unfortunately, doing that can lead to your kids being late or unprepared, other parents being upset with you, or even in worst case scenarios, an accident to occur. Hopefully, these tips will help to make your drop-offs and pick-ups run smoothly for years to come.
Handpicked Related Articles
Let Us Guide You Through The Process of Finding a Nanny or Nanny Job
CanadianNanny.ca is Canada's largest and most trusted online service for finding nannies and babysitters. We have been recognized by Today's Parent, CanadaAM, the Globe & Mail, Reader's Digest, Canadian Living Magazine, and many reputable parenting websites and publications across Canada.
Contact Us
Although we may be a self-serve nanny service, we are still very much devoted to helping families and caregivers succeed in their search for a match through our site. Our customer support team is always here and happy to offer any advice to our potential and existing customers.
Need a Nanny?
Need a Nanny Job?